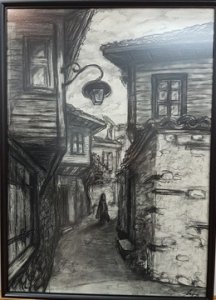 In this section you can discover, view and buy the paintings of our painter Silvia Kostova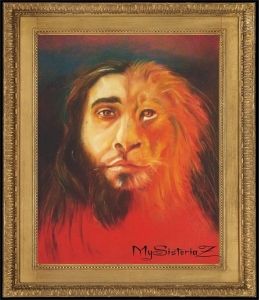 Elaboration of art portraits based on a photo, an idea or a suggestion you could send us. The portraits might be made with the following techniques: graphics, pastel or a digital collage.
Prices vary depending on the technique chosen, the dimensions of the portrait and the number of the painted faces. For example: an art portrait with dimensions 35x50 cm., made by pastel, with a single painted face, frame included: 50 EUR.
To order or make questions, please contact us via our e-mail: info@blestunka.com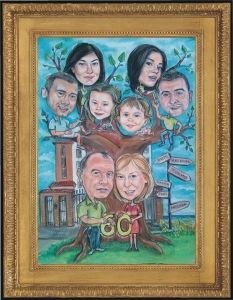 Elaboration of caricatures with facial resemblance: for the whole family or for a special person.

It can be a great gift for a special occasion or just for fun. They are based on photos and stories of yours.

Unleash your imagination and fantasy and become writers of your own work and thus take an active part in the development of a unique and personal gift for your loved ones.

The works are made of a special, high quality paper. They can be in colors (with good branded pastels) or as classic graphics in black and white (made with pencil and /or coal).

To give complete integrity to your gift, we propose to put the work in a frame, to pack it, to add a greeting card with a text that you choose and to send it as a gift to an address that you indicate.

To order your caricature, you would need to send us to our e-mail: info@blestunka.com the following important things:

- we need quality photos of the person to be painted (if possible two photos)

- describe your ideas of the story you want to see drawn

- write to us if there is something special to include (an important detail, a sign, etc. on which we have to emphasize)


Prices starting at 65 BGN for black and white graphics (one face).


Sizes of works: 35/50 cm. or larger, depends on the number of faces drawn.

Prices:

Black and white carticatures: 65 BGN (one side)

Color caricatures: 85 BGN (one side)

N.B.: The price for each additional face is + 25 BGN if black and white and + 35 BGN if in colors;

If we add a frame + 20 BGN .;

If we pack + 10 BGN .;

If we put inside the package a handmade greeting card + 15 BGN.
discounts info

Discounts info

Discount:

€14.85 (15.00%)

discounts info

Discounts info

Discount:

€14.85 (15.00%)

discounts info

Discounts info

Discount:

€21.15 (15.00%)